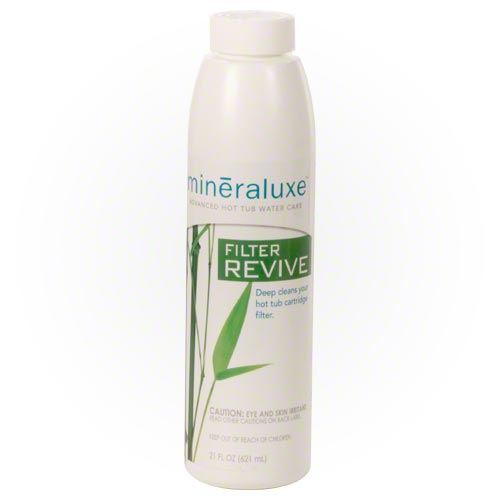 Mineraluxe Filter Revive Filter Cleaner
Item #:

UML09736
Item Details
Mineraluxe Filter Revive
Mineraluxe Filter Revive's extra strength, rapid action formula allows you to clean a filter in significantly less time! Removes greases and oils and breaks down scale and other contaminants that commonly accumulate on filter media. Whitens cartridges for that clean look!
Filter Revive Features:
Disinfects and cleans oils, biofilms, scale, and rust from filter cartridges
Whitens and brightens filters
Unique formula digests dirt and oils
Powerful biodegradable surfactants lift debris from surface of cartridge
21 Ounces
Dosage Amounts:
Prepare a solution of this product and hot water in a clean, plastic pail, laundry tub or specific filter cleaning container. Add 7 ounces if your hot tub is slightly used, 10 ounces if your hot tub is moderately used or 14 ounces if your hot tub is heavily used. Soak the cartridge in the solution for 15 minutes.
Mineraluxe UML09736