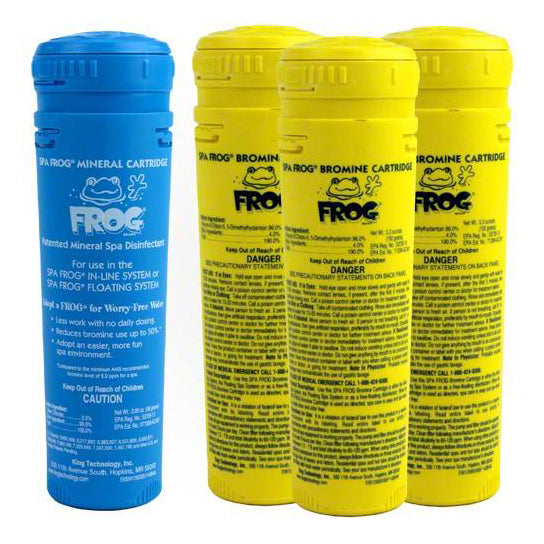 Spa Frog Cartridge Kit - 150
Item #:

01-14-3856
Item Details
Spa Frog Cartridge Kit

Features:
Cartridge Kit for Frog In-Line and Floating Frog Systems
Spa Frog Mineral Sanitizers are the only mineral systems for spas that work with low levels of bromine for the highest water quality.
Mineral and bromine spa care.
Cartridges work in the frog floating and in-line systems.
Cuts bromine use up to 50%.
Cuts maintenance time.
Water feels softer with a crystal clear shine.
Using less bromine helps reduce odors.
Mineral cartridges last for a full 4 months before needing to be replaced.
Bromine cartridges last for between 2 to 4 weeks and take just seconds to replace. (Bromine usage varies depending on spa size and number of spa users.
Includes:

(1) Mineral Cartridge
(3) 150 Gram Bromine Cartridges (each lasts between 2 - 4 weeks)
King Technology 01-14-3856