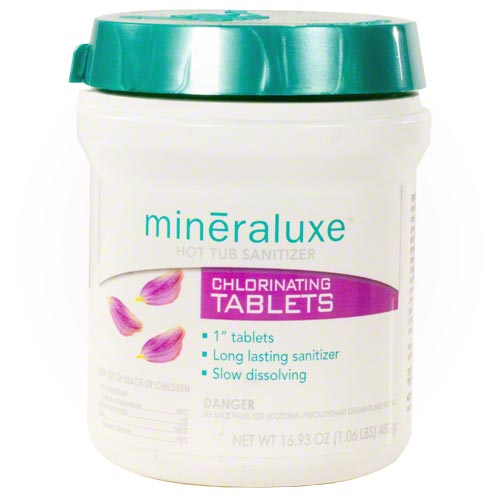 Mineraluxe Chlorinating Tablets
Item #:

UML09730
Item Details
Mineraluxe Chlorinating Tablets
Mineraluxe Chlorine Tablets are 1" chlorinating tablets that sanitize and controls algae and bacteria in hot tub water for crystal clear water. The tablets are dispensed into the water using a chlorinators or chlorine floater.
Features:
Long lasting 1" tablets
Chlorine sanitizer in slow dissolving tablet form
Effective at keeping water safe
1.06 Pound Bottle
Ingredients:
Trichloro-s-triazinetrione 99%
Other Ingredients 1%
Available Chlorine 90%
Dosage Amount:
Maintenance Treatment - Add this product to a chlorine feeder and adjust the feeder to maintain the free chlorine level in the water at 3 to 5 ppm as indicated by a reliable test kit.
Mineraluxe UML09730