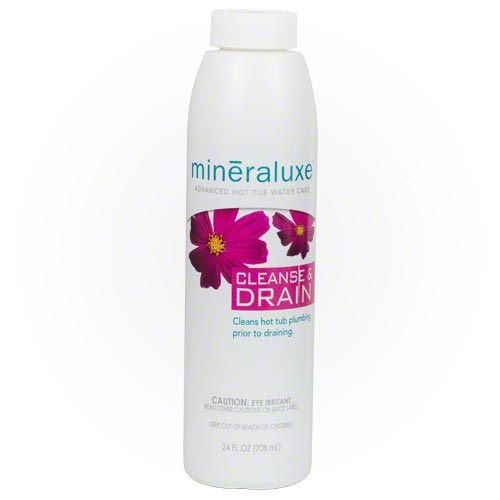 Mineraluxe Cleanse and Drain
Item #:

UML09737
Item Details
Mineraluxe Cleanse and Drain
Some pretty nasty stuff can get trapped in the hot tub plumbing. But just 'cuz ya can't see it, doesn't mean it's not there. Mineraluxe Cleanse and Drain Deep cleans where you can't.
It is designed to effectively clean hot tub plumbing by eliminating build-up of organic waste contamination! These contaminants collect and build-up in the circulation system and filter. By purging the hot tub of this organic build-up, the symptoms of contamination will be reduced or eliminated.
Features:
Deep cleans where you can't
Cleans hot tub plumbing and other hidden surfaces
All natural, blend of powerful concentrated enzymes and saponins - release built-up oils, greases, waxes, dirt, biofilm
Concentrated enzymes digest what is released
End result is water and CO2 and is safe to pump away to drain or lawn
24 Ounces
Dosage Amount:
Add 1 bottle to hot tub water prior to draining and refilling
Like most brands, add 24 to 48 hours prior to draining
Here's how easy it is to use:
Maintain hot tub water temperature at 95 degrees or higher.
Remove the filter cartridge.
Add bottle of Cleanse and Drain to hot tub water.
Run high speed pump for at least 5 minutes, with diverter valves in the neutral position, jets on and air off. It will foam!
Maintain water temperature and allow the hot tub water to circulate through the plumbing.
For best results, run high speed pump two or three times over a 24 hour period.
Drain hot tub completely. Rinse and refill hot tub.
Mineraluxe UML09737