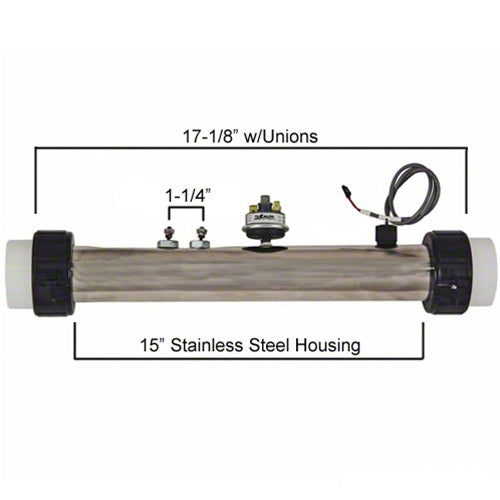 4.0 KW Heater Assembly for Balboa Value/LE 58048
Item #:

26-0809-5S-KSP
Item Details
Heater Assembly Replacement for Balboa Value/LE 58048
Description:
4.0 KW 240V
15" Stainless Steel Tube
Includes 24" Sensor
Includes Split Nuts, Heater Tailpieces and Gaskets
Made For Balboa Value and Balboa LE Control Systems
Replaces:
Balboa 58048 Heater Assembly
Jacuzzi R574 Heater Assembly
For Balboa Value 1000LE and 2000LE and on some Jacuzzi hot tubs.
Product Note:
If your plumbing is 1-1/2" simply use a 2" to 1-1/2" Reducer Bushing to change the plumbing on the heater from 2" to 1-1/2".
Includes pressure switch.
Also Known As:
HydroQuip 26-0809-5S-KSP
Therm Products C2400-0809-TPS
2-00-0059
Balboa 58048