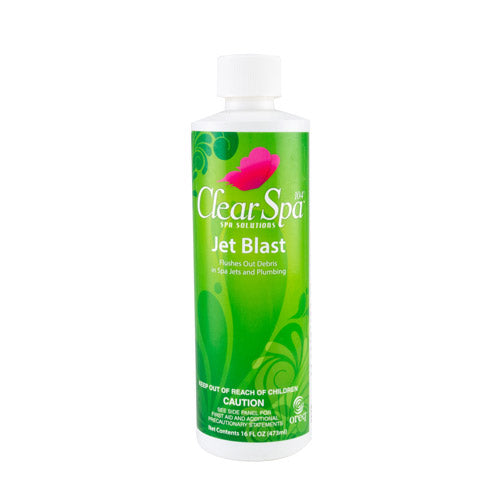 Clear Spa Jet Blast Pipe Cleaner
Item #:

CSLJBPT12
Item Details
Clear Spa Jet Blast
Jet Blast clears hot tub and jetted bath tub plumbing of organics, oils, dirt, and minerals. Add Jet Blast before the water is drained to prevent buildup that can restrict water flow and damage equipment.
Features
Hot tub

pipe cleaner
Flushes out debris in plumbing, equipment and jets
Powerful formula
Compatible with all sanitizing systems
Size:
Directions for use:
Use Jet Blast every 3 months or when the spa is drained and refilled per manufacturers recommendations.
Remove filter cartridge and clean separately using Filter Cleaner.
Before

hot tub

is drained, add entire bottle of Jet Blast to warm spa water through the skimmers.
Turn pump ON and run the jets for 15 minutes. (Ensure that filter is not in spa.)
Turn pump and jets OFF and let sit for 1 hour.
Turn pump ON and run jets and blower for 15 minutes.
Drain the spa, hosing off the inside spa walls while draining. When empty, rinse one last time.
Refill the spa according to the manufacturers recommendations.
Note: Some residual foaming may occur, if so, use No Foam to suppress the foam.