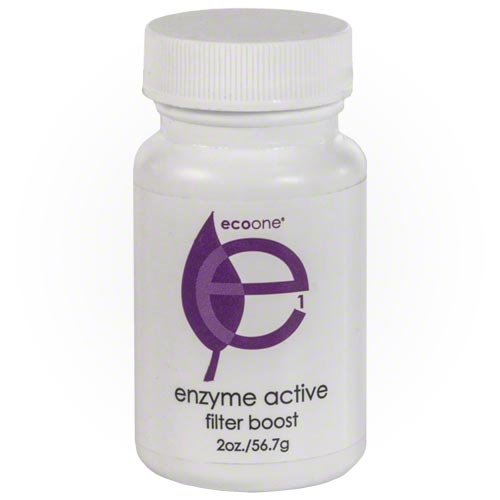 ecoone Enzyme Active Filter Booster
Item #:

eco-8002
Item Details
ecoone Enzyme Active Filter Booster 2 ounces
ecoone Enzyme Active Filter Boost was created for heavily used spas. Enzyme Active is a super concentrated powder that is added directly into the filter compartment every time the filter is cleaned. ecoone's proprietary blend natural ingredients super-boost filter efficiency by naturally breaking down body oils, lotions and other organic contaminants. Makes heavily used spa filters easier to clean. The non-foaming, natural formula will not alter water chemistry. Enzyme Active Filter Booster clarifies water and requires much lower doses than other brands of enzyme clarifiers. This two ounce bottle will last up to 6 months.
ecoone Enzyme Active Filter Booster Features:
Biodegradable
Non-foaming
Will not alter water chemistry
Excellent for heavily-used spas
Naturally breaks down body oils, lotion and other organic contaminants
Add 2 capfuls directly into spa filter every 30 days
Never tested on animals
Made in USA
Directions for use:
Clean filter and add two (2) caps full directly into your filter compartment every 30 days.