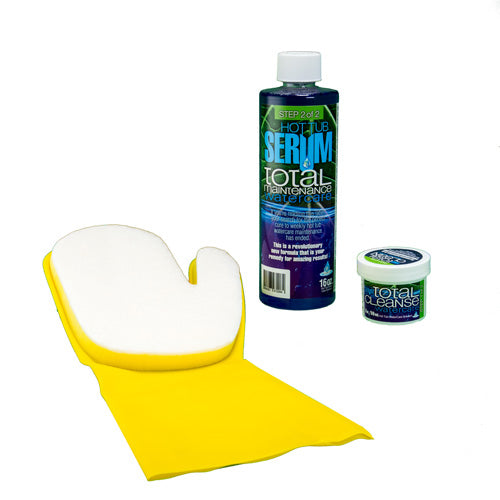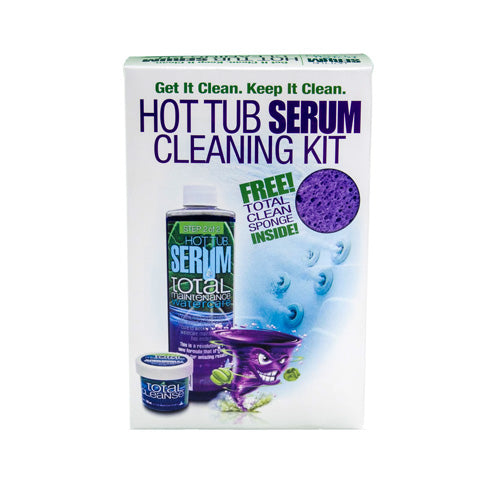 Hot Tub Serum Cleaning Kit
Item #:

CK-001
Item Details
Hot Tub Serum Cleaning Kit
Hot Tub Serum Total Clean System is a all-in-one easy to use system. Most people are using their hot tubs outside throughout the fall and winter months. Although the winter time is the most pleasurable season to use an outdoor hot tub. There are certain precautions you should take to ensure the proper operation and performance of your tub.

Start with a good fall purge with Hot Tub Serum Total Cleanse; a purge product that removes sludge build-up and does it in under an hour. Allowing your hot tub and your sanitizer to perform at peak efficiency. Then to keep your water crystal clear and clean use Hot Tub Serum Total Maintenance the weekly treatment for the rest of the winter till you are ready for your next purge.

Kit Includes:

(1) Jar of Hot Tub Serum Total Cleanse (Purge)
(1) Bottle of Hot Tub Total Serum Maintnenance
(1) Total Clean Sponge
Total Cleanse is a natural cleaner that cleans your hot tub surfaces including your pipes, plumbing, jets, and all other surfaces in the hot tub. It won't take long for you to see the difference. You will be shocked at how much buildup is removed from your hot tub that you probably didn't even know was there. By removing the gunk it makes the sanitizer you use more effective at killing bacteria and keeping the water crystal clear.

Total Cleanse Features:
Purges and cleans hot tub plumbing
Deep cleans surfaces including jets
Begins working almost immediately
Bubbling action deep cleans hard to reach areas
Highly concentrated formula
2 ounce jar
Dosage Amounts:
1 Level teaspoon per 100 gallons of water at each drain and refill (typically 6 months)
Total Maintenance's unique cleaning action disperses bacteria in the water to better able the sanitizer you use to kill the microbes and bacteria. It prevents slime and sludge from building up in your pipes, plumbing and jets to help keep your water clean and crystal clear.
Total Maintenance Features:
Unique cleaning action
Prevents unwanted buildup
Improves filter performance
Begins working almost immediately
Bubbling action deep cleans hard to reach areas
Highly concentrated formula
16 Ounce bottle
Dosage Amounts:
1 Ounce per 100 gallons each week