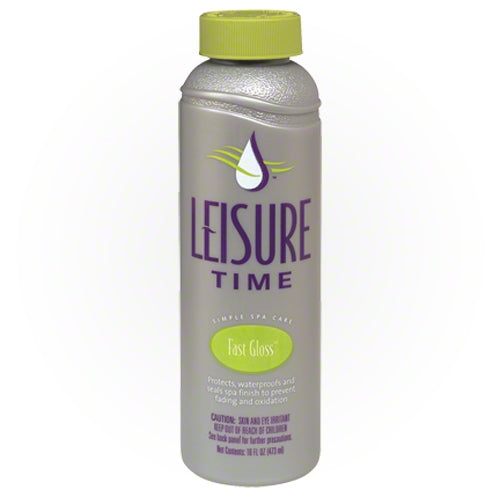 Leisure Time Fast Gloss
Item #:

P
Item Details
Leisure Time Fast Gloss - 16 Ounce Bottle

Fast Gloss by Leisure Time is a polisher and cleaner that is designed for use in hot tubs. Made from reactive silicones, Fast Gloss protects, waterproofs and seals hot tub finishes to prevent fading and oxidation. Applying fast gloss is easy and it will not streak or smear. The protective coating is unaffected by hot tub chemicals, sunlight and temperature fluctuations. Additional benefits include deep gloss finish and water repellency that will help prevent water spots on the shell of the hot tub. It is like a wax for hot tubs!
Features:
Cleaner and polisher that is like a wax for hot tubs
Protects, seals and waterproofs
Prevents fading, water spots and oxidations
Will not streak or smear
Long lasting and will not be effected by chemicals, sunlight and temperature fluctuations
Directions for use:
Shake well before use. Do not apply to wet surfaces.
1. Make sure the intended surface is dry.
2. Apply Fast Gloss to surface using a dry cloth.
3. Spread evenly to one area at a time with a circular overlapping motion.
4. Allow 10 to 15 minutes to dry.
5. Wipe off residue with a clean, dry cloth while turning the cloth frequently
6. Repeat if desired gloss is not achieved.