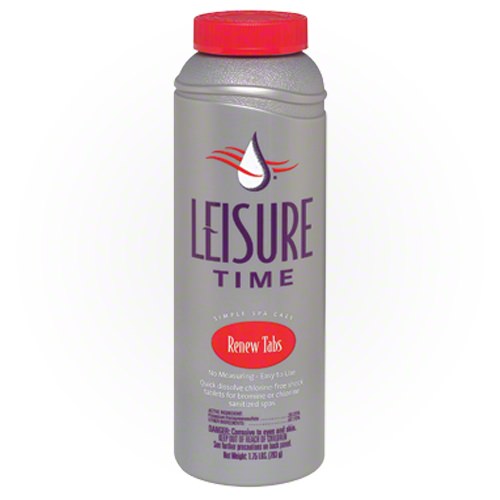 Leisure Time Renew Tabs
Item #:

45305A
Item Details
Leisure Time Renew Tabs

Renew Tablets by Leisure Time are the quick dissolving, chlorine-free shock oxidizer tablets for hot tubs that use bromine or chlorine to sanitize the water. They are basically the tablet form of a non-chlorine shock. Renew Tabs are easy to measure for proper dosing. Renew Tabs help to reduce odors caused by organic waste, ammonia and chloramines commonly found in bromine or chlorine sanitized water.
Features:
Quick dissolving chlorine-free shock tablets
Removes lotions, oils and other organic wastes
Fast acting allows you to use your hot tub minutes after use
Helps to remove unwanted contaminants that cause odors, skin and eye irritation
Helps clear cloudy water
Size:
Directions for use:
1. Turn ON filtration system.
2. Add 3 tablets per 250 gallons of water.
3. Run system for 15 minutes with the cover off.
Leisure Time 45305A