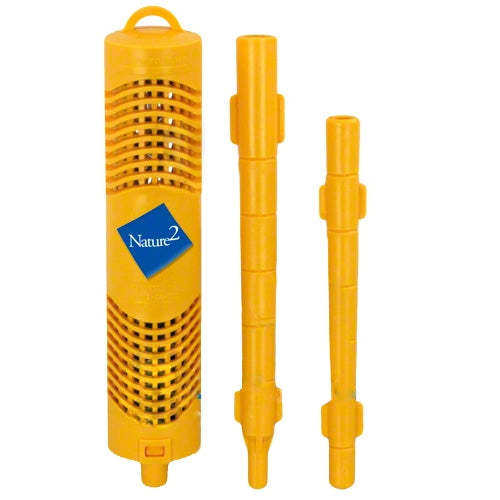 Nature2 Spa Mineral Stick
Item #:

W20750
Item Details
Nature2 Spa Mineral Stick

The Nature2 Mineral Stick uses patented mineral-bed technology to destroy bacteria and improve the look, feel and smell of your hot tub water by reducing chlorine and bromine requirements. If used with MPS (Potassium Monopersulfate), Nature2 Spa becomes a complete spa sanitizing system. Nature 2 Spa slips into your spa filter and lasts up to four months.

Nature2 Spa Features:

Simply drops right into your filter.
Works with your existing filtration system.
Leaves water softer and clearer.
Improves water clarity by destroying bacteria for improved clarity and reduces bromine or chlorine use for softer water.
Using less bromine and chlorine helps reduce odors and dry itchy skin.
Includes two Nature2 Spa stick extenders for use with longer filters.
For Hot Tubs up to 500 Gallons.

Experience Nature2 Spa mineral sanitizer and discover the joy of relaxing in crystal clear, luxurious spa water. When you sanitize your spa water with Nature2 sanitizer, you are able to create the perfect spa experience, free of the odors and irritants that chlorine and bromine can cause. Nature2 Spa even helps your spa water stay balanced, making your spa easier to maintain. With Nature2 Spa you can finally sit back, relax and enjoy a soothing spa experience. Isn't that the point of owning a spa in the first place?


Zodiac Nature2 Spa Mineral Stick