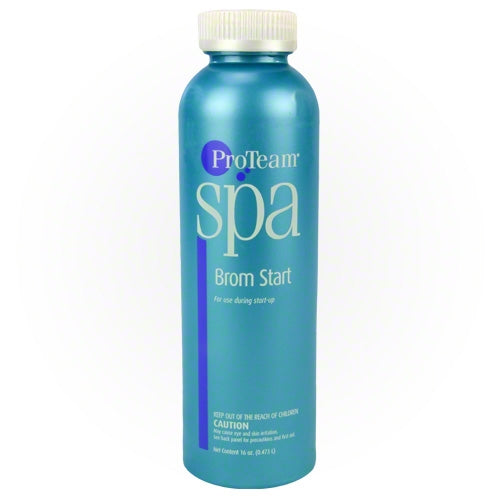 ProTeam Brom Start
Item #:

C003957-CS40P
Item Details
ProTeam Brom Start
ProTeam Brom Start will help create and immediate bromide reserve in your hot tub. When Brom Start is used with Bromine Tablets, the disinfection of the spa or hot tub water will be bromine based. Brom Start is not a disinfectant and it is necessary to use a sanitizer to disinfect your spa and hot tub such as Bromine Tablets.
Features:
Creates a bromide reserve in hot tub water
For use with bromine tablets
Liquid formula
Size:
Directions for use:
Use ProTeam Brom Start when filling your spa for the first time and when the spa has been drained and refilled. Add this product before dispensing Bromine Tablets into the spa or hot tub water.
Turn on circulation pump.
Add 2 ounces per 100 gallons of water to establish a bromide reserve.
Introduce bromine tablets to the spa.