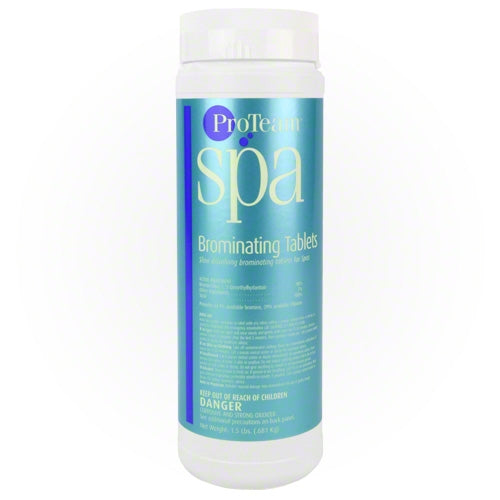 ProTeam Bromine Tablets 1.5 lbs
Item #:

C003936-CS20B1
Item Details
ProTeam Bromine Tablets 1.5 lbs
The

ProTeam

Bromine Tablets are 98% Strength. Compare to any brand and you will see why these are the best Bromine Tablets money can buy. Especially at this Price!

Feature:
Bromine tablets

A concentrated source of active bromine

Tablets dissolve slowly and evenly in hot tub feeders and floaters to provide continuous disinfection of your hot tub water

As effective as chlorine

1" Tablets fit into all bromine floaters
Size:
Ingredients:
Active ingredient: Bromochloro-5, 5- Dimethylhydabtoin 98%
Other Ingredients 2%
Dosage: 

Introduce 3 tablets per 300 gallons of water with the use of a floating tablet feeder or automatic brominator installed in spa equipment. Add 3 tablets every 5-7 days as needed to maintain an active bromine residual level 2 ppm at all times. 
When comparing dosage amounts to other brands you will find that ProTeam Bromine Tablets are the best value for your money.