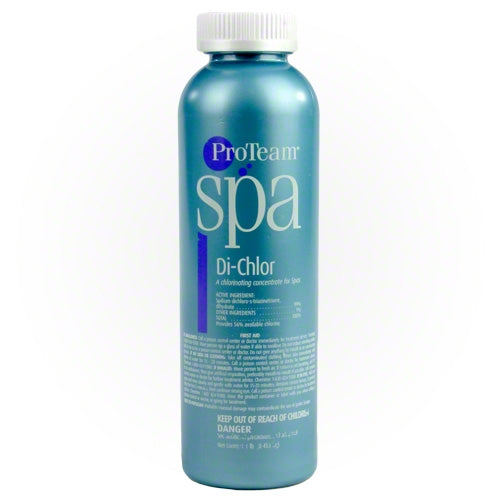 ProTeam Di-Chlor 1 Lb (Granular Chlorine)
Item #:

C003937-CS20P5
Item Details
ProTeam Di-Chlor

With ProTeam Di-Chlor Granular Chlorine there is never a need to pre-dissolve before use. Simply add to the Spa / Hot Tub water and the product will quickly treat the water without the extra steps required with some lesser brands of chlorine.
Features:
Granular Chlorine for hot tubs
Effectively kills bacteria and keeps water crystal clear
Dissolves quickly with no-need to pre-dissolve
Raises chlorine levels in the water within seconds
Size:
Active Ingredients:

Sodium Dichlor-S-Triazinetrione, Dihydrate 99%
Dosage:

When starting up a new spa or hot tub, superchlorinate to satisfy chlorine demand and to establish a disinfectant chlorine residual of 1.0 PPM to 2.0 PPM available chlorine.
This product should be added daily or as needed at the rate of 1/4 to 1/8 Oz per 500 gallons of spa or hot tub water to maintain chlorine residual at all time to 1.0 ppm to 2.0 ppm as determined by a suitable test kit.