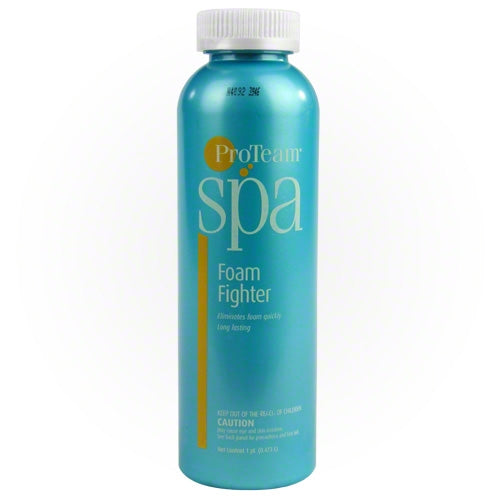 ProTeam Spa Foam Fighter 16 oz
Item #:

C003946-CS40P
Item Details
ProTeam Spa Foam Fighter

ProTeam Foam Fighter is a quick way to remove and stop foaming in spas, hot tubs and fountains while imparting a delicate fresh fragrance to the water. Sometimes residual soaps, cosmetics and other materials brought into the spa will cause foaming. ProTeam Foam Fighter is a concentrated foam eliminator for spas and hot tubs. This product is biodegradable and will not clog filters.
Features:
Defoamer for hot tub water
Destroys foam on contact and prevents foaming from recurring while in use
Works immediately on contact
Will not clog filters or effect water chemistry
Can be used with all sanitizing systems
Size:
Directions for use:
1. Shake thoroughly
2. Pour 1/2 ounce of this product into the water, where most foam is present.
3. Repeat treatment as necessary.
Spa may be used immediately after use.
Note:
Spa water that continuously experiences foaming issues may have water that is out of balance. Foaming may also indicate that the water needs to be drained and refilled with fresh water. 
ProTeam Spa Foam Fighter