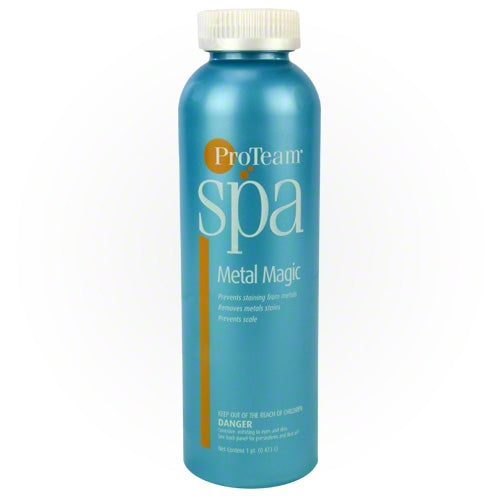 ProTeam Metal Magic 16 oz
Item #:

C003945-CS40P
Item Details
ProTeam Metal Magic
ProTeam Metal Magic is developed to quickly combat and remove Copper, Iron, Manganese, and high Calcium hardness in your spa. ProTeam's Metal Magic will also remove scale buildup and metal stains in spa pumps and heaters.
Features:
Stain and Scale treatment for hot tubs
Removes more metals than any of the other popular spa products from Leisure Time, etc.
Highly concentrated formula uses much less product than other brands
Once treated, metals are carried to the filters as a clear crystal that can be removed by cleaning the filter.
Size:
Dosage Amount:
If your spa has metals present in the water, use 1 oz to treat every 100 gallons of water to quickly remove metals and prevent plating. Use 2 oz per 100 gallons in order to remove scale and plating from the spa shell and plumbing.
Weekly use of ProTeam Metal Magic will keep your spa's surface and plumbing in good condition.