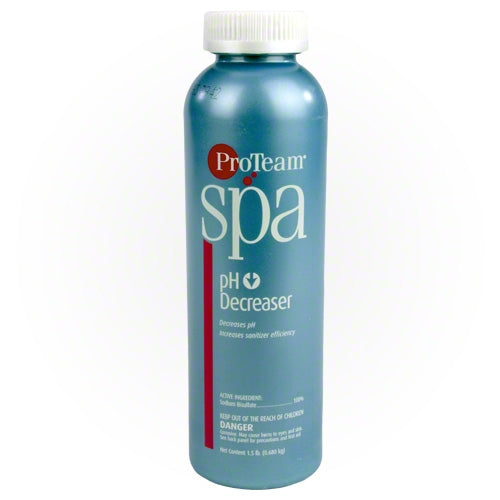 ProTeam Spa pH Decreaser 1.5 Lbs
Item #:

C003942-CS20B1
Item Details
ProTeam Spa pH Decreaser 1.5 Lbs

ProTeam Spa pH Decreaser reduces the pH of water in spas and hot tubs. pH levels should be maintained between 7.2 and 7.6. When the pH levels exceed 7.6, the water can become cloudy and conditions are favorable for scale to form. Additionally high pH may cause sanitizers to be less effective in the water. This product is compatible with chlorine, bromine, biguanide, silver-mineral, and ozone-treated pools and spas.
Features:
Lowers pH levels in hot tub water
Granular formula that dissolves quickly
Compatible with all sanitizing systems
Size:
Directions for use:
1. Test spa water frequently during the week and make necessary adjustments.
2. Turn on circulation system.
3. If pH is between 7.7 and 8.0, apply 1/4 ounce (2 teaspoons) for every 500 gallons of water directly to the spa. If pH is greater than 8.0, apply 1/2 ounce (4 teaspoons) for every 500 gallons of water.
4. Circulate for 15 to 30 minutes and retest pH.
5. If pH is above 7.6, repeat steps 2-4 until pH is between 7.2 and 7.6.
If you are adjusting pH with some frequency, test total alkalinity and make necessary adjustments. Use of ProTeam Gentle Spa will help maintain a stable pH and buffers alkalinity.

ProTeam Spa pH Decreaser