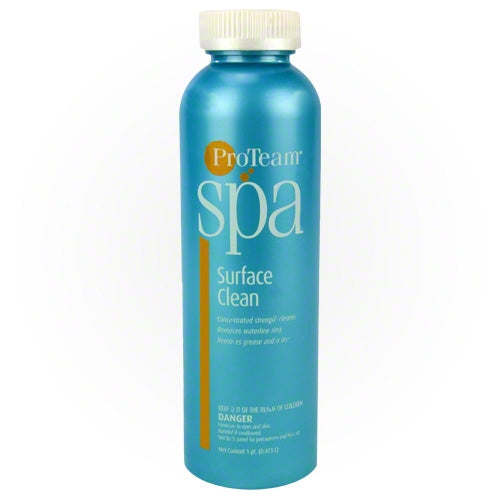 ProTeam Surface Clean
Item #:

C003948-CS40P
Item Details
ProTeam Surface Clean

Instead of using several different surface cleaners to clean your spa, ProTeam Surface Clean can do it all. This ready-to-use cleaner will remove waterline rings, dirt, grease, scale, and other deposits on spa surfaces and spa fittings. Surface Clean is a thick cleaner that will cling to surfaces which allows for extra penetration to remove stubborn problem areas.
Surface Clean may be used on plastic, vinyl, fiberglass, ceramic, painted surfaces and more. Avoid use on copper, aluminum, steel or galvanized surfaces. Spot test on all other surfaces in an inconspicuous area.
Features:
Hot tub surface cleaner
Removes water line scum, dirt, scale, grease
Can be used on most spa surfaces including the shell, skirting, covers etc.
Thick liquid formula clings to spa surfaces to penetrate stubborn problem areas
Size:
Directions for use:
Apply ProTeam Surface Clean to a damp sponge, non-abrasive cleaning pad, or similar non-scratching material. Wipe surfaces clean or scrub to remove tough deposits. To remove heavy stains, allow cleaner to remain on problem area for up to 5 minutes before scrubbing. Rinse trated surfaces thoroughly with water. Excessive use may cause minor foam which can be controlled with a defoaming agent.

Proteam Surface Clean