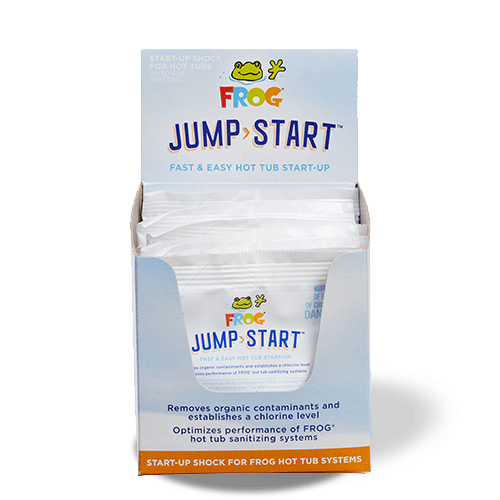 Spa Frog Jump Start - 12 Pack
Item #:

01-14-6012
Item Details
Spa Frog Jump Start
Spa Frogs new Jump Start product perfectly accompanies the Spa Frog Floating System or In-Line System by starting up a freshly filled spa with an initial chlorine level. The effervescent action helps the chlorine dissolve faster and the fizz tells you it's working!
Frogs Start-up hot tub shock comes in a single, easy-to-pour packet. No more measuring out capfuls per your gallon size. Once in the water, Frog Jump Start quickly dissolves before it hits the bottom of the hot tub so it won't bleach surfaces. Using Frog Jump Start takes the load off your Frog @ease SmartChlor Cartridge or Frog Serene Bromine Cartridge so they last a bit longer.
Features:
Start-up shock for any hot tub up to 500 gallons
No measuring our cap-fulls per hot tub size
Just cut the corner and pour into the hot tub
Unique effervescence helps the dichlor dissolve quickly
Provides a low chlorine residual to get the tub started
Use every time you refill the tub with fresh water
Size:
Ingredients:
Sodium dichloro-s-triazinetrione 33%
Other Ingredients 67%
Directions for Use:
To a freshly filled spa or hot tub add one packet for up to 500 gallons of spa water. After the product has bubbled for a few seconds turn on the high speed jets for one minute or until fully dissolved.
King Technology 01-14-6012