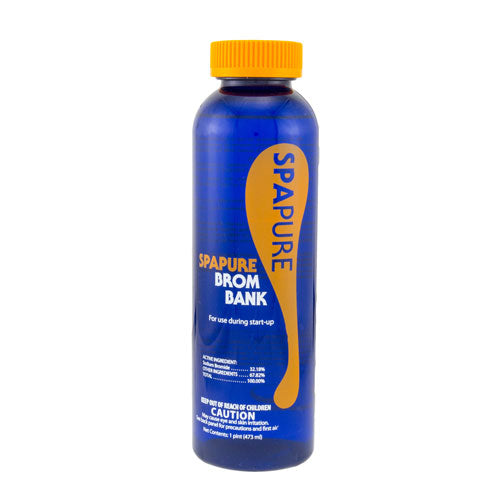 Spa Pure Brom Bank
Item #:

C003402-CS40P
Item Details
Spa Pure Brom Bank
Spa Pure Brom Bank is a liquid solution of bromide salts, which remain in your spa as a stable bank until spa shock is added to the water. Brom Bank has no sanitizing properties until each time you add shock to your spa, then Brom Bank releases bromine into the water.
Features:
Bromide salts for hot tubs
Liquid solution that provides a stable bank of bromine in the water
Recommended for use with bromine tablets
Size:
Directions:
Turn on your spa's circulation pump
Add four ounces of Brom Bank for every 250 gallons of water to establish a bromide reserve
Also add bromine tablets to your spa
For the initial application or after draining and refilling your spa, distribute Brom Bank at a rate of four ounces per every 250 gallons of water. After the initial dose, Brom Bank should be added weekly at a rate of one ounce per every 250 gallons of water to maintain a bank of bromine in your spa.
If you compare ProTeam chemicals with other spa chemical manufacturers, you'll quickly discover that ProTeam Brom Start offers the best value for the money.