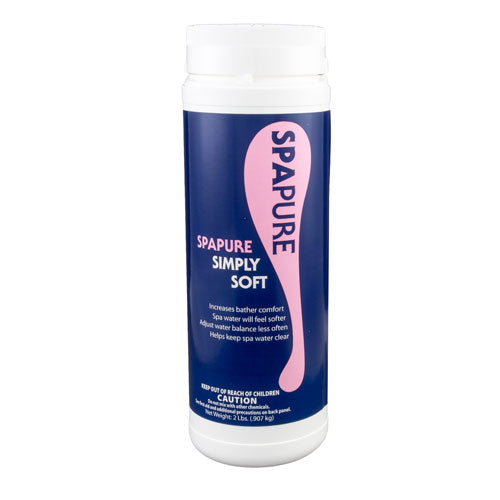 Spa Pure Simply Soft 2.2 lbs
Item #:

C002854-CS20B2
Item Details
Spa Pure Simply Soft 2.2 lbs

Simply Soft is a Hot Tub Warehouse favorite product. Simply Soft creates a soft feel to your hot tub water leaving your feeling skin moisturized while reducing skin irritation and itching. Give Spa Pure Simply Soft a try and give your spa experience what its been missing.

Features:

Improves the feel of hot tub water

Leaves skin soft and moisturized, while reducing eye and skin irritation
Fresh Fragrance
pH neutral
Size:
Dosage:


After filling your spa, add 1 capful or 4 oz. of SIMPLY SOFT for every 150 gallons of water. May be added at a rate of 1/2 capful or 2 oz. for every 150 gallons between draining spa or hot tub to continue enhancement of water quality and reduce eye and skin irritation. 
Note:
Unlike similar products from other manufacturers Simply Soft is PH neutral.

When comparing dosage amounts to other brands you will find that Spa Pure Simply soft is the best value for your money.