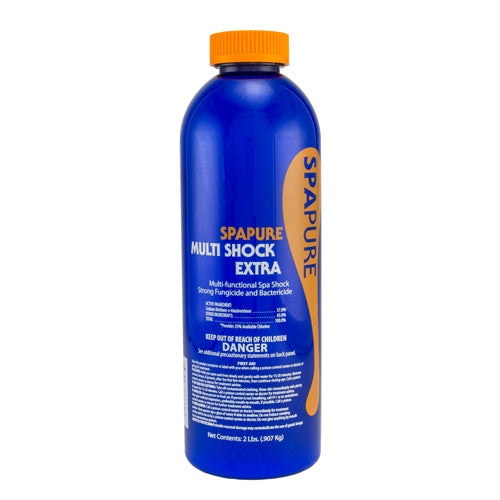 Spa Pure Multi Shock Extra - 2 Lbs
Item #:

C005210-CS20B2
Item Details
Spa Pure Multi Shock Extra
Spa Pure Multi Shock Extra is a highly effective shock treatment which helps control algae, reduces eye and skin irritation, gives water a soft and silky feel, improves water clarity, and helps maintain better water balance. It will effectively removes organic contaminants and the result is beautiful, clear water. It provides a rapid source of chlorine containing disinfectant, which protects the pool against the growth of bacteria and algae to help keep the pool in in a sanity condition. It's a shock, algaecide, and stabilizer all in one.
Features:
Shock Treatment for Hot Tubs
Helps control algae
Reduces eye and skin irritation
Makes water feel soft and silky
Improves water clarity
Helps maintain better water balance
Quick dissolving
Removes organic contaminants
Keeps water sparkling and clear
Protects against growth of bacteria and algae
Shock, algaecide, and stabilizer all in one
Size:
Ingredients:
Sodium Dichloro-s-triazinetrione 57.0%
Other Ingredients 43.0%
Total Ingredients 100%
Minimum Available Chlorine 35%
Directions for Use:
Add 1/2 ounce for every 500 gallons of spa water weekly.